Dress Code
The Bryn Athyn Church School dress code is intended to promote a sphere of external order and charity which reflects the underlying religious ideals of the New Church. It outlines a system that promotes modesty and conscientiousness about school and learning, and fosters school unity and school pride. The dress code will be enforced at school with appropriate steps and consequences defined elsewhere. We appreciate the participation of parents in outfitting their children in accordance with the following guidelines.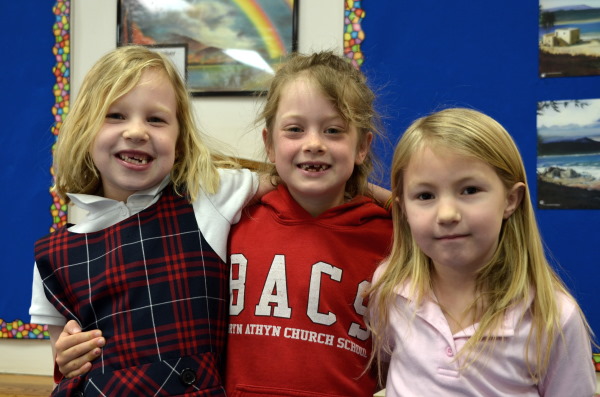 While in school, students should wear classic, uniform-style clothing. This includes long or short pants, skirts and jumpers for girls, polo shirts, button-up shirts, full turtlenecks, and simple, secure-fitting shoes or sandals.
Dress Code 2022-23 (pdf) – complete dress code
Dress Code "At-a-glance dress code" (pdf) – to be used as a guide only
BACS Sweatshirt Online Ordering
School Uniform Vendor Information
BACS does not require parents to purchase clothing from any particular vendor. Our dress code is designed to be able to be followed by shopping at many easily available stores, such as Old Navy, Gap, and Target. Many parents also find clothing at thrift stores that fit the dress code requirements. Also note that the Uniform Closet, run by parent volunteers, collects usable used dress code items from families whose children have outgrown them and sells them at very reasonable prices. All proceeds from the sale are donated to the Student Financial Aid Fund. To make an appointment to shop at the Uniform Closet, contact Diana Mergen (uniforms@bacs.org).
In addition to these vendors, you can also purchase clothing at the following online vendors. These vendors carry the plaid that is associated with our dress code. The plaid is named different things depending on the vendor, so please note the names below.
Lands' End – www.landsend.com
If you go to the school uniform section on the Lands' End website you can choose Bryn Athyn Church School. Any of the clothing items listed there fit our dress code. And the BACS plaid is called Classic Navy Large Plaid.
French Toast – www.frenchtoast.com
The BACS plaid is called Navy Red Plaid
Flynn O'hara – www.flynnohara.com
The BACS plaid is called Navy & Red Plaid.
You can go to an in-person store, located at: 901 North Bethlehem Pike Ambler, PA 19477
Flynn O'hara offers larger/longer sizes, so if your child needs tall sizes this is a good place to go.